Product description
Technical datas
Optional
Glazing and Control Unit VK3522
✛ 2 stators for clamping
✛ Working height adjustable

The robust and stabil welding construction is developed for "glazing and endcontrol" of windows. The VK has 2 stators for clamping, left one is fix and the right one is moveable. Tilting of the clamping plates from inside to outside under the contact surface. Roller track width 200mm for in- and output. Control panel is based at the moveable stator in optimal position. Equiped with manometer and air pressure regulator. Working height adjustable 500mm pneumaticly (not by edition OH). Clamping plates 120mm, type sill cut 150mm. Contact surface sliding-, brush-, or felt-profile.
With pneumatic height adjustment
Without pneumatic height adjustment
Weather strip recess with pneumatic height adjustment
Weather strip recess without pneumatic height adjustment
!!! Further versions on request !!!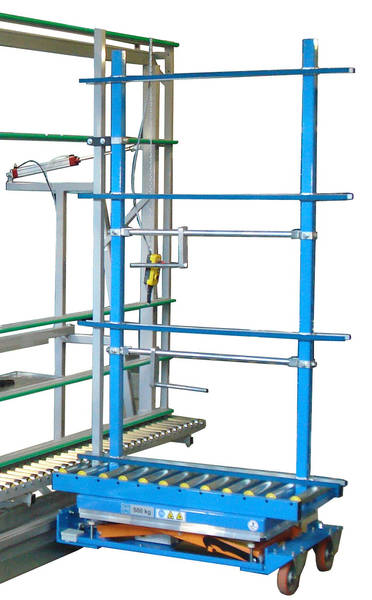 Door Slip-In Station EHW2009-RY
Type-VK / EHW: The door slip-in station is developed for an easy workflow by fitting Elements into the frame. The electro-hydraulic lift-wagon is equipped with a guiding rail along the glazing- or doorpress (with 0° position). There are bed stop systems for left or right sashes/doors. Roller track for easy input/output. Contact surface of the wagon is out of felt-profile, to protect the element. After positioning the element is easy to handle. 1 Person is able to hang in big and heavy doors. The frame is fixed at the VK- or doorpress, and positioned square. Hereby it's guaranteed to receive optimal terms and conditions for function control.
!!!Further accessories/options on request !!!