Product description
Technical datas
Optional
Glazing bead saw GLSP200
✛ Miter cuts using the double cut method
✛ Optionally with glazing bead simulation unit
✛ Cutting the glazing bead
✛ Optionally with sealing rubber stand

The glass bead saw GLS is available in different versions:
manual with simple electrical version E
manual with normal electrical version N
pneumatic with simple electr. Version E
pneumatic with normal electr. Version N
automatic with pneumatic feed N-AV
with simulation unit (optional)

The stable construction of the saw unit in connection with the high-quality selected components guarantee long-lasting, precise and flexible work. The profiles can be cut to length individually or twice at the same time. Residual pieces are extracted from above by means of an extraction nozzle and connection to an extraction system. The turret unit enables quick and precise adjustment/conversion from one profile system to the other without changing allowances.
Guide carriage on hardened and ground shafts in linear ball guide bushes. 2 motors attached at an angle of 45°. The arrangement of the saw blades guarantees the best saw cuts. Stepless height adjustment of the table surface. 2 clamping cylinders per profile for profile fixation. Electrical and pneumatic control designed according to German standards and safety.
Simulation unit with feed cylinder for turret stop with 16 different stop options (optionally up to 45) and 4 clamping cylinders. This unit simulates the installation of the glazing bead on the window while cutting. This results in perfect cuts. With the "gasket stand" option, the gasket is also positioned upwards in the cutting area.
| Art.-Nr | Type | Description |
| --- | --- | --- |
| 5362 | GLSM200E | Glazing bead saw, manual, for 45° miter cuts, 2 pneumatic clamps with foot valve, electric motor protection switch with emergency stop. Control "E" |
| 4237 | GLSM200N | Glazing bead saw manual, for 45° miter cuts, 2 pneumatic clamps with foot valve. Control "N" |
| 5363 | GLSP200E | Pneumatic glazing bead saw for 45° miter cuts, 2 pneumatic clamps with foot valve, electric motor protection switch with emergency stop. Control "E" |
| 3205 | GLSP200N | Pneumatic glass bead saw, for 45° miter cuts, 2 pneumatic clamps with foot valve. Control "N" |
| 3106 | GLSP200N-AV | Pneumatic glass bead saw, for 45° miter cuts, automatic feed, 2 pneumatic clamps with foot valve. Control "N-AV" |
| Type | Air pressure | Motor | Saw blade diameter | Saw blade diameter 45° | Connection |
| --- | --- | --- | --- | --- | --- |
| GLSM200E | 6-8 Bar | 2 x 0.75 kW | D=200mm, d=32mm, 2x | D=103mm, d=32mm, 1x li - 1x re | 230/400V-50Hz |
| GLSM200N | 6-8 Bar | 2 x 0.75 kW | D=200mm, d=32mm, 2x | D=103mm, d=32mm, 1x li - 1x re | 230/400V-50Hz |
| GLSP200E | 6-8 Bar | 2 x 0.75 kW | D=200mm, d=32mm, 2x | D=103mm, d=32mm, 1x li - 1x re | 230/400V-50Hz |
| GLSP200N | 6-8 Bar | 2 x 0.75 kW | D=200mm, d=32mm, 2x | D=103mm, d=32mm, 1x li - 1x re | 230/400V-50Hz |
| GLSP200AV | 6-8 Bar | 2 x 0.75 kW | D=200mm, d=32mm, 2x | D=103mm, d=32mm, 1x li - 1x re | 230/400V-50Hz |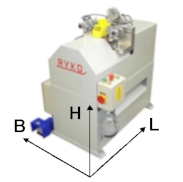 | Art.-Nr. | Type | Length | Width | Height | Weight |
| --- | --- | --- | --- | --- | --- |
| 5362 | GLSM200E | L = 1050 mm | B = 680 mm | H = 1150 mm | 124kg |
| 4237 | GLSM200N | L = 1050 mm | B = 680 mm | H = 1150 mm | 125kg |
| 5363 | GLSP200E | L = 1050 mm | B = 680 mm | H = 1150 mm | 132kg |
| 3205 | GLSP200N | L = 1050 mm | B = 680 mm | H = 1150 mm | 134kg |
| 3106 | GLSP200N-AV | L = 1050 mm | B = 680 mm | H = 1150 mm | 135kg |
Optional accessories:
Saw blade HM Ø200x32 (2x)
Saw blade HSS Ø103x32 (1x left / 1x right)
Suction nozzle above Ø80mm
Suction nozzle below Ø100mm
Suction socket reduction Ø80/100mm
Extraction system (ASA 2053)
Counter profile edition standard
Counter profile as required
Hydropneumatic saw feed
Vario scanning stop 1.5m - 3.0m (GL)
Length stop system digital handwheel (LDR)
Electronic length stop system (LA)
Accesories: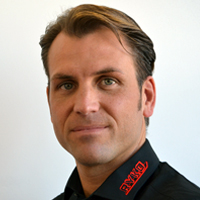 Patrick Rygiel
Management
p.rygiel@ryko.de
Tel: (+49) 0 72 32 / 30 18-10
Mobil: (+49) 0 171 / 68 28 933